Recycle Bin is a very useful tool on every Windows computer. It's the safety net that prevents your deleted files or folders from permanent loss. And it makes it easy to restore the file or folder back to its original location. But there are still some occasions that you may lose files from data loss. What should you do to restore deleted files from Recycle Bin? Let's move on to check how to recover deleted files from Recycle Bin.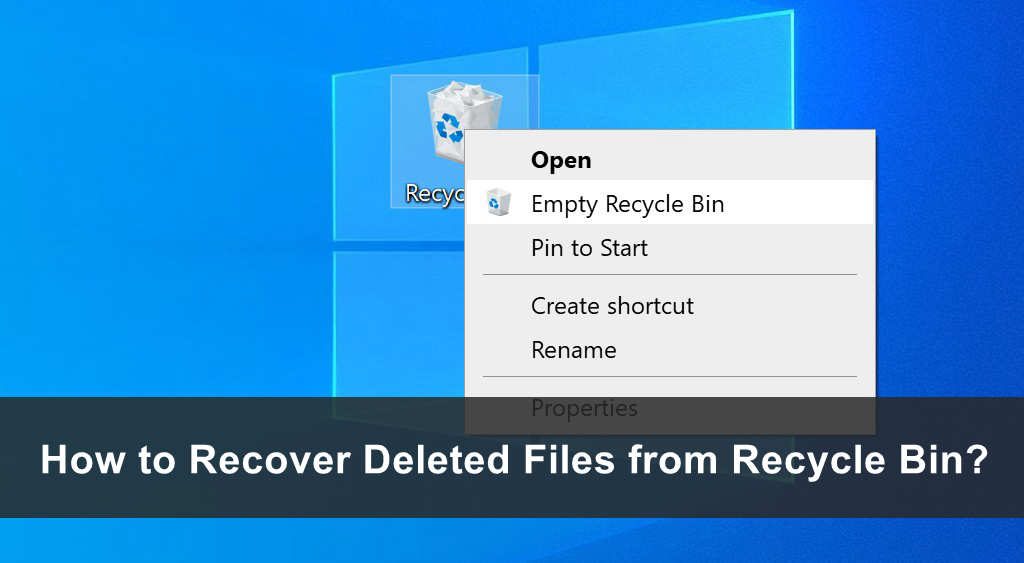 Contents of this article
When You May Lose Data from Recycle Bin?
As we know that the Microsoft Recycle Bin is designed to temporarily store the deleted files or folders before they are cleared. But if there is not enough space for the deleted files or folders, the data will be deleted without saving in Recycle Bin. And besides, if the temporarily deleted data exceeds the size of the Recycle Bin, they will be cleared automatically. So here are some situations that you cannot find deleted data in the Recycle Bin.
1. Emptied Recycle Bin (by choosing "Empty Recycle Bin" on right-click menu)
2. Permanent deletion: The file was deleted by Shift + Delete on the keyboard, or dragged to the Recycle Bin while pressing the Shift key.
3. The deleted file or folder is too big in size that there's not enough space to store it. So the system directly deleted the file or folder permanently.
4. There are too many files or folders in Recycle Bin that exceeds its capacity, and the system erased Recycle Bin automatically.
What should you do if you lost data in Recycle Bin? Let's check it out.
How to Recover Deleted Files from Recycle Bin?
Actually, it's not the end of the day if you lost data in Recycle Bin. There are chances that the lost data can be recovered with RecoverXData, the best data recovery software.
What is RecoverXData?
RecoverXData is a useful data recovery tool that helps recover deleted files from computer hard drives, external drives, SD cards, and more. No matter the files are lost in Recycle Bin lost partition, formatted hard drive, RecoverXData can help scan, preview, and recover.
It's very easy to use that no matter you are a newbie or an expert on computers, you can easily handle it.
How to Recover Deleted Files from Recycle Bin with RecoverXData?
It's very easy to recover deleted files with RecoverXData. Just like 1-2-3.
1. Download and Install RecoverXData from the Official Website.

2. Choose C drive in Wizard Mode or "Recovery from Emptied Recycle Bin" in Scene Mode, and start the scan. The quick scan will take less time and the deep scan will take a longer time but with more files found.
3. Choose the right file to recover by file type, file path, or deleted. You can also search the lost file by its name, and then you can recover it to another hard drive or partition.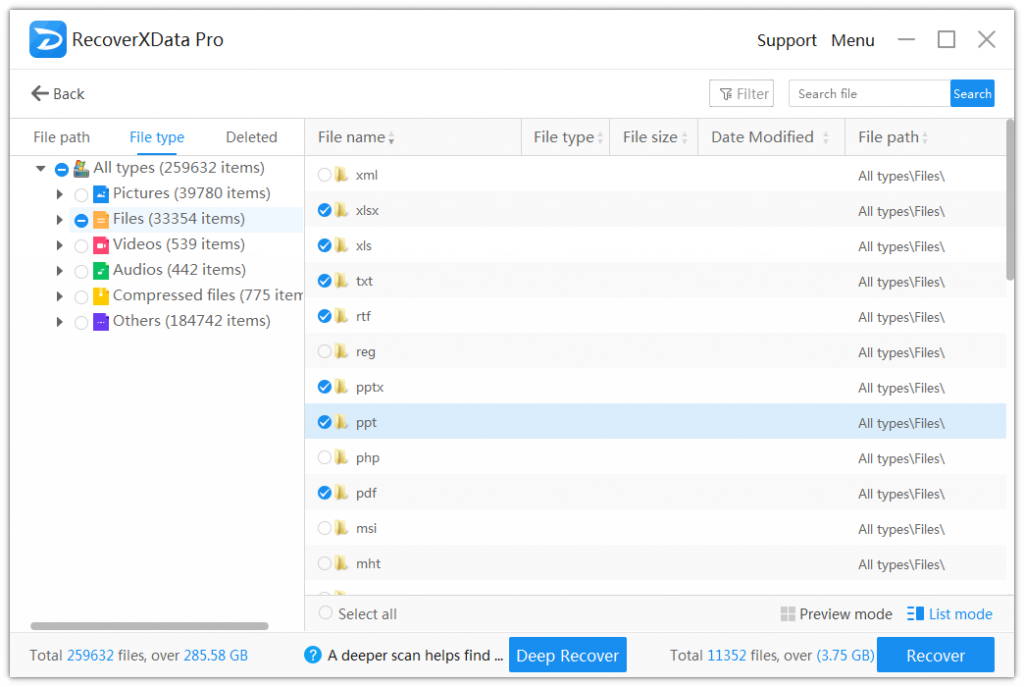 Notes:
Please don't install the software or recover the found files into C drive, or the original data may be overwritten and there might be errors.
You can preview specific document and image files under 50MB before the recovery.
The earlier you scan the hard drive, the more chance you can find the lost data since the remained data may be overwritten by other files anytime.
If you have multiple hard drives, partitions, or an external hard drive connected to your PC, each location will have its own $Recycle.Bin and Recycle Bin settings. And you can use RecoverXData to scan the right drive for lost data recovery.
But the removable drives, such as USB flash drives and memory cards, will not have a Recycle Bin. Are files deleted from removable drives permanently deleted? The answer is no and you can still use RecoverXData to recover them.
How to Recover Files from Removable Drives?
The earlier the data is scanned, the more data will be recovered.
Recover Now