Got MKV video files lost accidentally? This guide will show you how to recover deleted MKV files.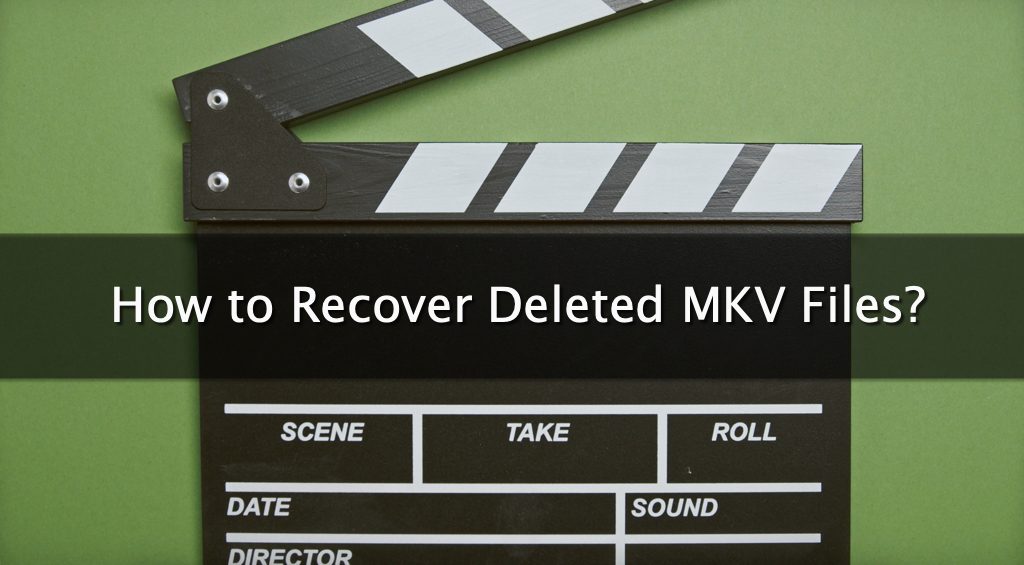 Contents of this article
What are MKV files?
MKV files are actually multimedia container formats, the MKV container can combine audio, video, and subtitles into a single file. You can enjoy HD videos if you have an MKV video on your computer.
How to recover deleted MKV files?
Since MKV files are always very large, you can hardly retrieve them from the recycle bin. When confronting with this tough stuff, what can you do to recover deleted MKV files?
Don't be panic. Generally, the deleted MKV files remain in your computer hard disk/ SD memory card USB flash drive, etc.  They are just hidden due to some data loss. And RecoverXData can help you recover the MKV files.
What is RecoverXData?
RecoverXData is a reliable and effective software to restore deleted and lost files. It not only supports restoring the deleted, lost, and cleaned file from computer hard disk, desktop, and Recycle Bin, but also works well on retrieving data on external devices. Below are some of its main features of the program:
It's quite easy to use and highly effective
It works well with Windows 10/8/7/XP
The preview function allows you to read all the recoverable data before the recovery progress
Selectively restore without losing any current data.
It's 100% safe and never changes things from the source hardware.
Before we start the instructions, you need to download the data recovery program to your computer. Once you have installed the program,  I will show you how to retrieve missing MKV files effectively.
How to recover deleted MKV files with RecoverXData?
Step one: Launch RecoverXData
In this interface, you'll see 6 independent ways: Recovery for deleted data, Recovery for disk format, Recovery for flash/memory card, Recovery for emptied Recycle bin, Recovery for lost Partition, Deep recovery. You can select the location where your MKV videos got deleted or lost. You will run the quick scan which spends less time.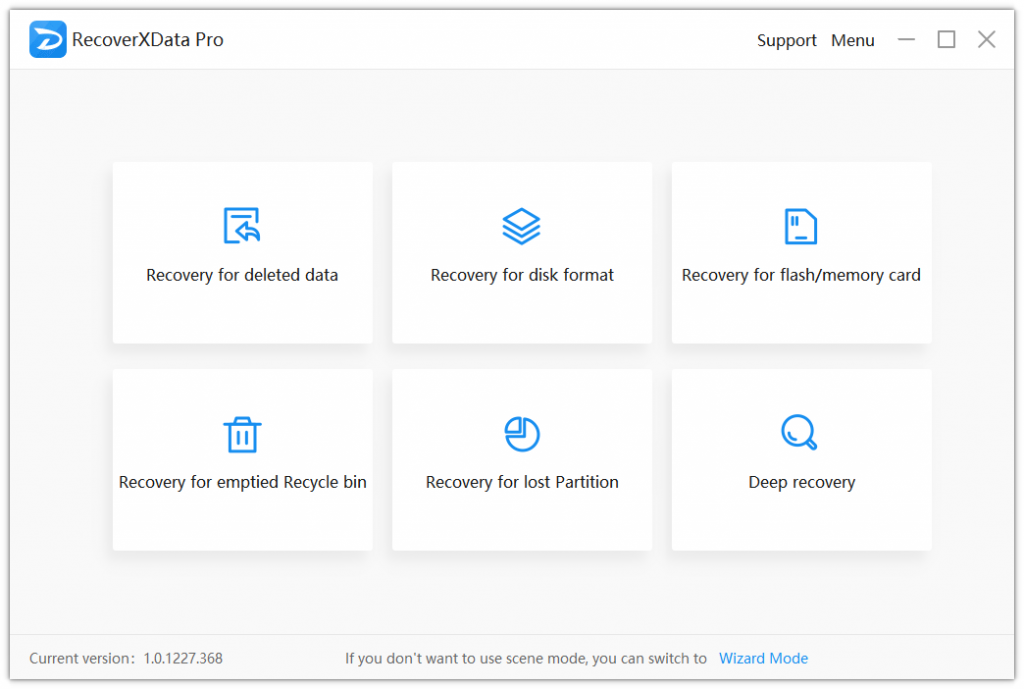 Step two: Choose the location of the lost MKV files and start a scan
Click the "Start Scan" button to scan the corresponding disk files. During the scanning process, you'd better not interrupt the process or quit the software, which will lead to the failure of recovery.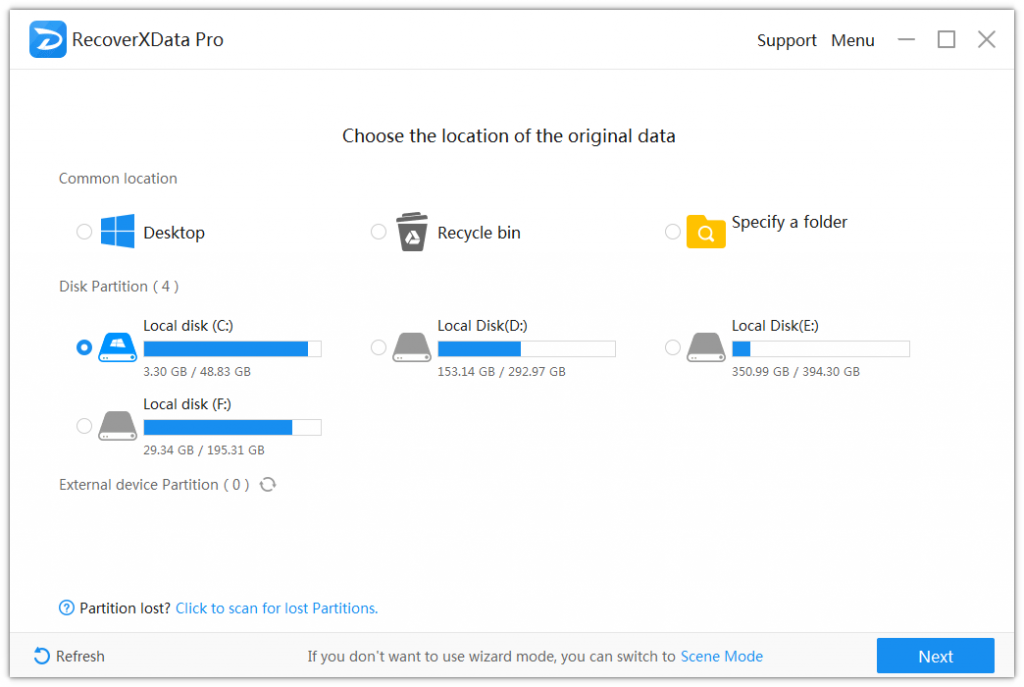 Step three: Recover the deleted MKV files
In the scanning result, you can specify the found MKV files by File type > Videos > MKV. After you check all recovered files, select your MKV videos and click "Recover" to retrieve them back. You can also choose the whole folder to recover.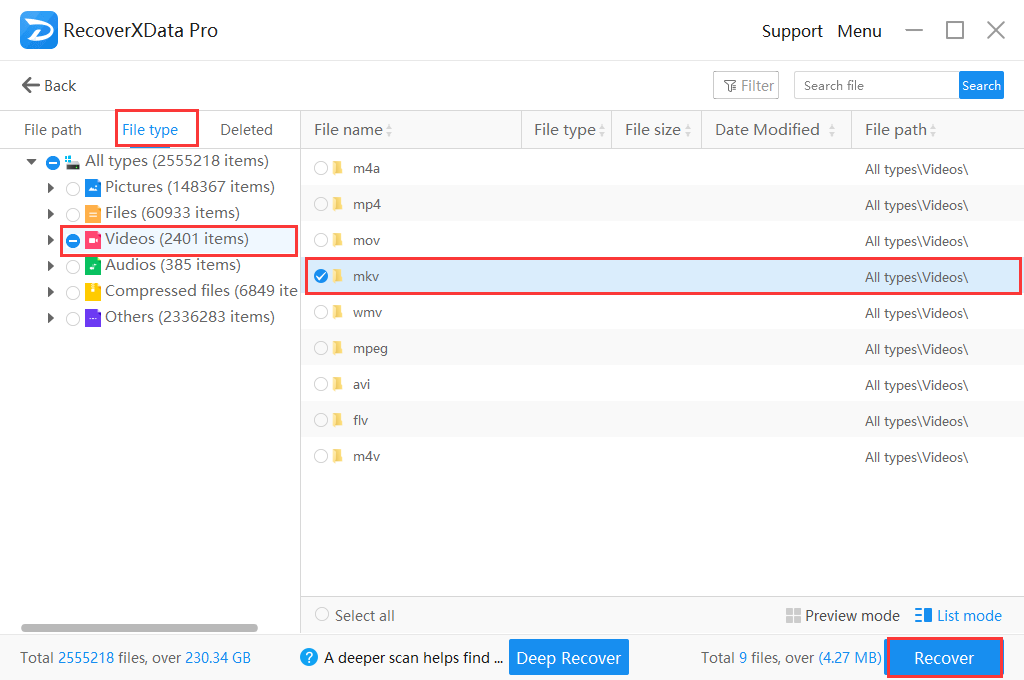 With the above 3 steps, you should have retrieved the lost MKV videos.  I hope it will be helpful to you. For the safety of your data, it's better to keep backups of all your essential media files somewhere on the SD card or other storage devices.
How to recover lost files in other formats?
If you lost files in other formats, please refer to the solutions below.
The earlier the data is scanned, the more data will be recovered.
Recover Now