How to recover data from lost hard disk partition? How to recover deleted hard disk data? I just got a friend encountering these problems in the past few days. It's like this. His computer's hard disk couldn't be recognized suddenly for unknown reasons which cause his partition was missing. But it's really frustrating since there were a lot of learning and working materials (mostly in PDF) on it. I helped him tried everything and spent a lot of effort restoring the lost files. If you encounter a similar situation, follow this article now and learn how to recover files from lost hard disk partition.
Unlike ordinary computer maintenance, data recovery requires higher technology, equipment, and operating environment. So if you've lost something important on a hard disk partition, it's highly recommended not to save or delete anything on that partition anymore since the earlier you find ways to recover your data, the more chance you can recover it.
When you delete a partition with tools like Fdisk, it seems that the files on the hard disk are lost, but actually the data is not lost completely. And if you got the warning saying that the drive is invalid and needs to be formatted, it's because that Fdisk just rewrites the content in the main boot sector of the hard disk (0 sides, 0 track, 1 sector), which means that it only deleted some of the hard disk data. The real data is still there. And that provides the possibility to recover the lost files.
We can use some undelete software to retrieve the files from disappeared hard disk partition or deleted partition. To recover lost files with data recovery software is much easier than other methods. So that as long as you didn't corrupt the original order of the partition, most files are recoverable with this data recovery software, RecoverXData.
The software is good at recovering hard disk data. It not only supports recovery from the emptied Recycle Bin but also recovery from the formatted FAT16、FAT32 or NTFS partitions.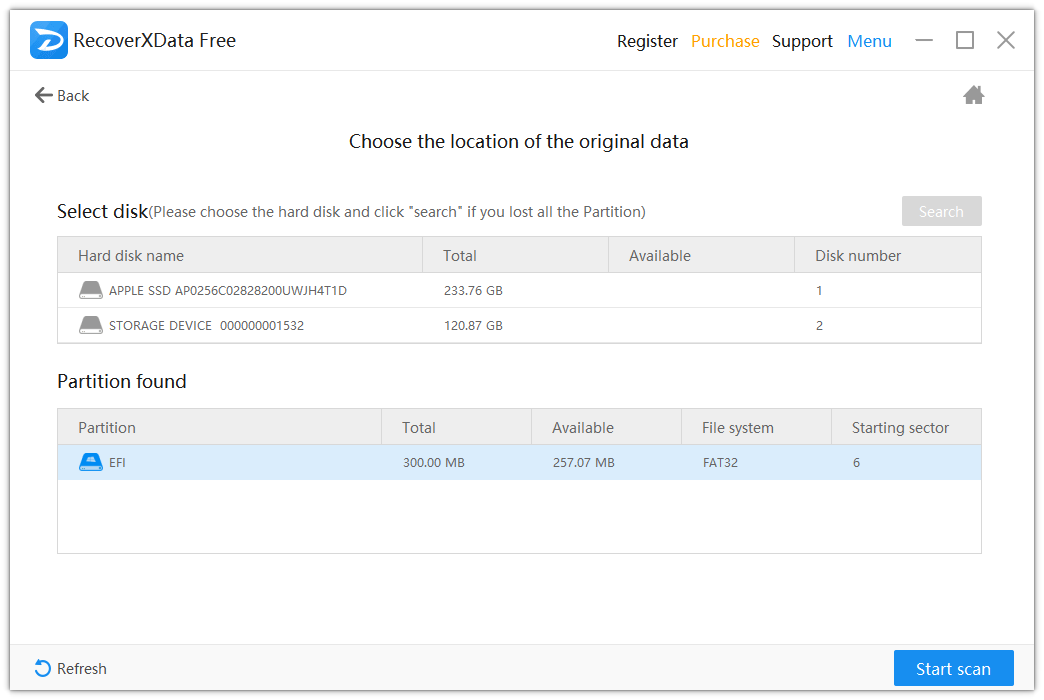 Why choose RecoverXData data recovery software?
Here are the greatest strengths:
1. Simple and easy interface with both scene mode and wizard mode.
2. It supports free scanning and preview to check what can be recovered.
3. Powerful and advanced recovery technologies to help you find all data that remained.
4. Preview as you are scanning. No need to preview after the scanning.
5. Supports various data-saving media, such as Memory card, camera, SD card, u disk, computer, recycle bin, etc.
6. Supports recovery of photos, documents (Word, Excel, PPT, etc.), video, audio, and other data types.
How to recover lost data from lost hard disk partition with RecoverXData?
The steps are easy.
1. Download and install RecoverXData.
2. Choose "Recover for lost Partition"
3. Choose the right location to recover.
4. Start scanning.
5. Choose the found files
6. Recover the lost PDF, videos, images, and other files back to your computer.
Notes:
1. Don't install RecoverXData on your desktop or the location where you lost data.
2. Don't save the found data back to the location where it got lost.
The above is detailed explanations of the principles and the most effective methods of data recovery on computer hard disk partition recovery. After reading the above introduction, do you still feel hard disk data recovery difficult? It is recommended that you avoid formatting partitions as much as possible when using the computer because formatting like this will inevitably lead to the loss of useful data. If it is unavoidable that you must format the partition to repair, you can use the professional data recovery software, RecoverXData to help you recover the file data after formatting as well as recover files from lost hard disk partition.
The earlier the data is scanned, the more data will be recovered.
Recover Now