For some specific users, while exporting files you may met with some errors or problems. You may find solutions and reasons in this post.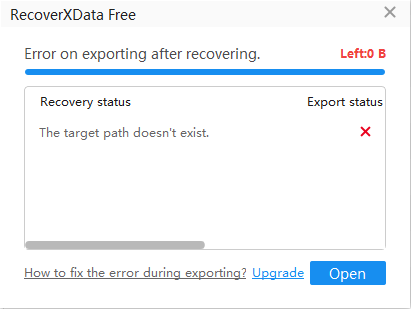 There's an "X" on the export window.
Please refer to the explanations on the specific window for reasons. Sometimes it's because the target path you chosen doesn't exist. And also it's possible that the connection is interrupted while exporting.
If in that case, please check the connection of your devices. For example, U disk, mobile hard disk, SD card, etc. Make sure that the connection is stable, and start the scan and recovery again. You can also re-plug in the external devices, and re-scan.
The exported file is smaller than what's shown in the scanning result.
It's possible that the connection of your external devices is interrupted while exporting.
Please re-connect the device and try again.
What should I do if it still doesn't work?
If there are frequent failures or unstable device connection during the operation, please check whether your external device has the following conditions:
1) The aging of the equipment causes the connection to be unstable;
2) Insufficient power supply for equipment;
3) Unstable USB interface;
4) The data cable is worn out or unsupported;
5) Use of unqualified extension cords or connectors;
It is recommended to keep the device connection stable when the data is restored, and return to the main interface to try scanning again:
1) Re-plug the device and try again;
2) Try again after cleaning the interface dust;
3) Retry after replacing the connected data cable or connector;
4) Try again after using the USB interface on the back of the desktop computer;
If you have not connected to other external storage devices or if there are still errors in the exported file after repeated attempts, you can contact us for help.
We hope this guide help you fix the errors during exporting. For more answers, please refer to our FAQS.
The earlier the data is scanned, the more data will be recovered.
Recover Now